Philip Nobile has an answer that most ATRs will find to be a good fit.


Why won't the UFT meet with ATRs? It's a no-brainer. Rubber- room teachers under suspicion had de-facto chapters with elected liaisons who had monthly rendezvous with top dogs like Michael Mendel and LeRoy Barr at 52 Broadway. They got respect. But not us, all in good standing. We are the union's homeless, abandoned on the battlefield, disenfranchised by Mulgrew et al.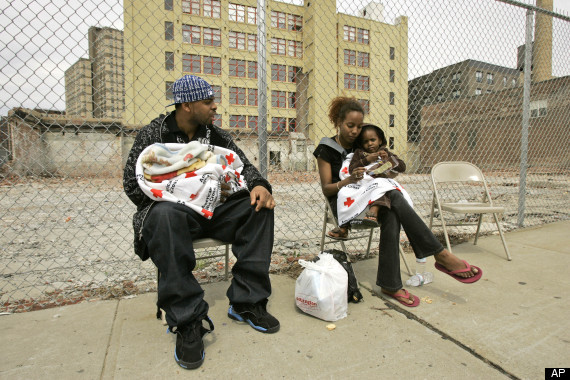 A homeless family
Back in September, we had to twist arms to arrange borough meetings. Amy Arundel and Barr made the rounds in October, preening solidarity while denying our right to a chapter. Brooklyn Borough Rep Howie Schoor, not a bad fellow out of the foxhole, pledged a repeat meeting and guaranteed timely responses to our inquiries.
Would that it were so. There has never been a second meeting and nobody at the UFT will say why. I reached out to the leadership four times this month without luck. On February 1, curious about the emergence of field supervisors, I wrote:
The DOE's cockamamie plan to observe ATRs cannot be ignored. The UFT saw this coming, but as far as known, since ATRs are not in the loop, you guys have done nothing to protect us. The least you can do now is agree to ATR meeting in the boroughs--just like last October. Howie promised more meetings then. Can you give us a date?
On February 2, Amy Arundel, Our Lady of ATRs, responded in a terse email: "no teacher has been u-rated."
My same day reply:
Good to hear from you. Yes, we know nobody has been U-rated...yet. But why wait and face a fait accompli? If I may say so, it's your job to get ahead of, not behind, the curve.
The question on the table now is: What is the UFT doing about this development, if anything? You know that the DOE is up to no good with field supervisors. But you are keeping us ATRs out of the loop.
The obvious next step is another ATR meeting in the boroughs during which you can consult us, your constituents, about our rising concerns. So tell us--will you arrange a meeting asap?
Arundel went silent.
On February 3, I emailed my Brooklyn District rep Tom Bennett, et al., about his nonchalant, party-line comments re field supes, and I recast the idea for a meeting:
The DOE did not consult the UFT on this arrangement. But that is no excuse for the union's passivity. For example, Amy's Antoinette-ish throwaway: "No one has been u rated."

Marie Antoinette offers a plate of cake.
You owe us solidarity. You can start with borough meetings, and fast. To the leadership: will you or won't you call a second ATR meeting as Howie Schoor promised at the first one in Brooklyn? We deserve an answer.

The leadership must disagree. As for the courtesy of a reply, forget it. Ever willing to extend a golden bridge of retreat, I gave Schoor another shot on February 8th:


Now your'e breaking two promises--not only your pledge to have another ATR meeting, but also to quickly answer ATR queries.
I don't get it. Why won't you say yes or no to a meeting?
What's not to get? Mulgrew et al. regard ATRs as an inconvenient marker of their impotence. They surrendered on grievances, seniority transfers, linking evaluations to test scores, and first year incompetence appeals except for 13 percent. ATRs could be next. It's easier to sell us out when they don't look us in the face.
Photo credits:
http://i.huffpost.com/gen/230633/thumbs/r-HOMELESS-FAMILIES-large570.jpg
https://encrypted-tbn3.google.com/images?q=tbn:ANd9GcR5fQBRw3OWQEtZmvPj0JfkjzBFQAeYCabPOvkrbQ3PJLm8FBRo